Community partnerships help expand and amplify the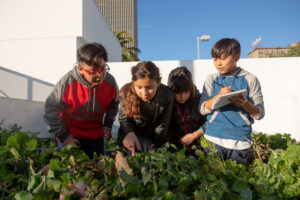 impact of a system-wide focus on student health and well-being. Partnerships extend beyond formal and informal agreements to include local and global connections, collaborations, and relationships that advance school commitments and student well-being.
Frequently viewed through a classroom lens where outcomes are measured by grades and performance, the short- and long-term community benefits of an SEL wellness initiative are equally powerful.
In the 2015 report, The Economic Value of Social and Emotional Learning, Clive Belfield and his fellow researchers found that, on average, for "every dollar invested equally across the six SEL interventions . . . there is a return of eleven dollars, a substantial economic return."
The report goes on to show that social-emotional skills and competencies such as self-awareness, self-management, social awareness, relationship skills, and responsible decisionmaking not only aid in successful student learning, but also may have long-term economic and social contributions. Moreover, ongoing research yields an expanding correlation between SEL skills and direct labor market influence, revealing strongly positive earning impact derived from an enhanced focus on SEL skill development.
From collaborating with community partners for food distribution, connecting with businesses to support community internet locations, and partnering with local health providers to increase mental health or medical services, future ready leaders know that a student's well-being is a full community effort. A learner-centered educational environment is amplified by a human-centered community. Thus, it is imperative to leverage every possible partnership to support the needs of each child.
What resources and community organizations can you identify to support students obtain access to

housing and clothing;
food and hygiene staples;
mental health providers;
physical health providers;
mentors;
before-school, after-school, and weekend care; and
home internet access?

What potential partnerships can amplify the school's commitment to student health and well-being?
What roles might be appropriate to help cultivate and curate partnerships with

school counselors;
district communications;
parent liaisons;
club sponsors; and
school support/foundation organizations?

What community partnerships can support students that are learning in a remote setting?
What communication efforts are in place (or can be) to

highlight efforts;
showcase partnerships;
promote resources;
demonstrate relationships; and
amplify core values?

What crisis channels are available to students outside of the school day?
How are these services communicated to

students;
families;
faculty and staff; and
community stakeholders?
Students spend an increasing amount of time online: communicating, doing homework, interacting with peers. This means more of their lives are hidden from the view of adults who, previously, would have had a more direct way of knowing students' interpersonal struggles. Bullying has moved online, as have expressions of mental health struggles, whether suicidality, depression, or various types of self-harm.
To close the gap and intervene before crises turn into tragedies, digital monitoring technologies like GoGuardian Beacon® have entered the scene, licensed by school systems and implemented on school-owned devices. These technologies are able to help students in need when they show warning signs online, but those capabilities are only possible with a certain level of access to student data.
Community Relations Plan
Effective leadership requires the ability to engage stakeholders effectively by building and managing relationships. A strong relational foundation acknowledges the interdependence among a diversity of stakeholders and is essential for sustainable success.