Empowering instructional coaches to support a culture of innovation for teachers to personalize learning for students
Future Ready Instructional Coaches™ (FRS Coaches) are essential to the continued growth and development of customized professional learning for their schools and districts.  Effective professional learning must be job-embedded, customized, and consistently supported. Future Ready Instructional Coaches™ are able to leverage data and resources in order to design and deliver quality learning experiences for educators.
The Future Ready Instructional Coaches™ strand provides instructional coaches with research-based strategies, protocols, and resources to help coaches effectively collaborate with and support their schools and districts with professional learning designed to strengthen instructional practices.
Future Ready Instructional Coaches™ resources are aligned with the Future Ready Schools® Framework, a research-based planning tool for digital learning, visioning, planning, and implementation focused on modernizing student learning.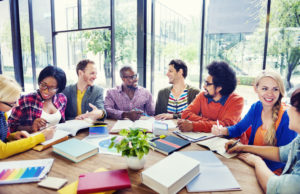 Future Ready Instructional Coaches™ are innovators who believe in:
Supporting instructional personnel by providing customized coaching and professional learning experiences
Modeling and delivering differentiated professional learning
Encouraging educators to connect and collaborate
Supporting school leadership and developing teacher leaders
Future Ready Instructional Coaches™ have access to:
Tools and resources needed for continued development as educational and instructional leaders

A profession network of other instructional coaches willing to support and share best practices
Future Ready Instructional Coaches™ Framework
FRS Coaches strengthen teacher instructional capacity by designing and modeling sound pedagogical practices. They create innovative, learner-driven experiences that meet teachers where they are and support them through their personalized learning pathway. In addition, instructional coaches advocate for infrastructure that ensures equitable access to connectivity, digital devices, information, resources, programming, and services for all students in support of the district's strategic vision.
Why Future Ready Instructional Coaches™ Matter
Instructional Coaches serve as the liaison between teachers, the community, leadership, and students.
Instructional Coaches support teachers with current and effective methods for providing the best instruction for students through their leadership in professional development, modeling instruction and coaching support for teachers.
Instructional Coaches work with school leadership to build a culture of trust and success.
Chris Aviles, Fair
Haven School District, NJ

Penny Christensen
Hall County Schools, GA

Wes Kriesel
Santa Ana Unified, CA
Rachelle Dene Poth
Riverview School District, PA
Nicole L'Etoile
RISTE, RI
Melissa Lim
Portland Public Schools, OR)
Susan Hitt
New Hanover School District, NC

Tammy Neil
Suwannee County School District, FL
Dean Phillips,
Montana Small Schools, MT
Kerry Gallagher, J.D.
St. John's Prep, Danvers, MA
Alicia Ray
Surry County Schools, NC
Regina Schaffer
Middletown Township School District, NJ
Steve Wick
Indian Prairie School District, IL
Kristin Ziemke
Big Shoulders Fund Chicago, IL
Chad Kliefoth
Wisconsin Department of Public Instruction, WI