Join the Future Ready Schools®(FRS) Network
The Future Ready District pledge was created in 2014 and updated in 2017 to better align with the Future Ready Framework. The pledge offers district superintendents a way to make a firm and public commitment about their efforts to implement innovative learning practices to support teachers and students within their district. The pledge is just one step of the Future Ready Schools® (FRS) process but it cannot be the end of the story.
Signing the pledge is powerful and should not be overlooked as a critical part of the FRS community-building process. The pledge offers opportunities for local promotion and signals high-level support and dedication to innovation in education. Superintendents who take the pledge are providing clarity and "permission" for educators in their districts to delve deeply into the FRS activities and resources.
Most superintendents who take the pledge suggest that it helps strengthen the dedication among leadership teams to complete the FRS five-step planning process with fidelity, engages the district in meaningful discussions about capacity gear by gear, and helps school leaders "see themselves" in the district's overall plans for innovation as they implement the strategies at the school level.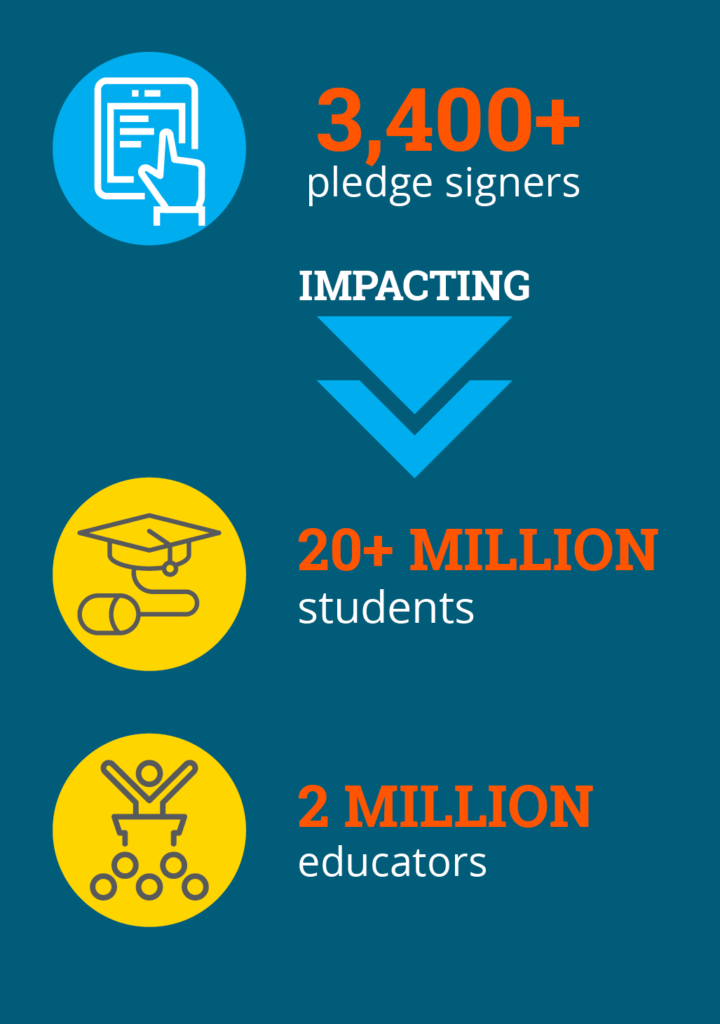 Foster a culture of collaborative leadership. FRS district leadership teams are composed of leaders at all levels who work collaboratively to transform teaching and learning to a more learner-centered approach.
Provide rigorous academic content for all students to build life skills. In an FRS district, curriculum, instruction, and assessments are aligned tightly with and designed to engage students in personalized, technology-empowered, and deeper learning experiences that build life-long learning skills.
Empower personalized professional learning opportunities. FRS districts strive to provide all educators with access to professional learning experiences that are personal and authentic.
Help schools and families transition to anytime, anywhere learning. High-quality, high-speed technology and infrastructure within an FRS school district are essential to advancing authentic, learner-centric experiences.
Rethink the use of space and time. Learner-centric experiences in an FRS district require changes in the way instructional time is allotted and how the learning space is designed.
Focus on long-term sustainability. In FRS districts, the transition to learner-centered, technology-empowered experiences requires strategic short- and long-term budgeting as well as creative leveraging of resources.
Share and mentor for continuous improvement. FRS districts understand that transformation is a process, not an event. Regardless of where FRS districts fall on the implementation continuum, they work diligently toward a system of continuous improvement districtwide, with emphasis on its lowest-performing schools and student subgroups.