An effective process for reviewing and developing a budget is guided by a deep understanding of school finance at the district, state, and federal levels. Funding a learner-centered initiative requires strategic short-term and long-term budgeting that leverages the use of technology and other resources to optimize student learning outcomes, while ensuring the prioritization of marginalized groups (i.e., Black, Hispanic, under-resourced, and impoverished students). To be cost efficient, budgets at the district and school levels must align and include consistent funding streams for both recurring and nonrecurring costs. The district's financial model should include metrics and processes that determine total cost of ownership (TCO) for developing and sustaining the innovative learning environment and to ensure accountability for determining the learning return on investment (ROI).
Efficiency and Cost Savings
Funding for learner-centered initiatives leverages technology to improve teaching and learning and to increase efficiency and cost savings. A cross-functional budget development team composed of district leaders, key stakeholders, and subject-matter experts represents the district's interests. This team employs strategies for calculating the TCO for all resources, focusing on technology, tools, and instructional practices that enable learning.
Alignment to District and School Plans
Priorities for budget and resources align with district- and building-level strategic and tactical plans and continuous improvement goals. Budget proposals also provide justification for all expenditures included in these plans and align with a guaranteed and viable curriculum. Innovative programs are funded conditionally upon their alignment to the district's vision and mission. 
Consistent Funding Streams
The district has consistent and flexible funding that enables equitable access to learning environments for all students. Budgets for learning tools and resources are addressed in short- and long-term fiscal plans. Funding sources are identified in the district's annual maintenance and operation budgets with minimal reliance on grants or other temporary sources. Funding for learner-centered initiatives is integrated across multiple budget areas where appropriate. 
Learning Return on Investment 
All metrics for review of budget priorities and cost efficiency are based on their demonstrated relationship to student learning goals. District leaders have strategies and tools for measuring ROI in digital learning, focusing on technologies, resources, and instructional practices that support student learning.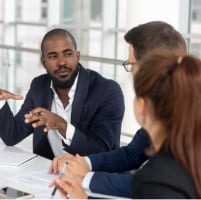 Strategic alignment of resources to district goals is absolutely paramount in ensuring district dollars are spent advancing the best interests of students.
Consider zero-based budgeting (ZBB) practices to reallocate and reassess school-level budget priorities annually.