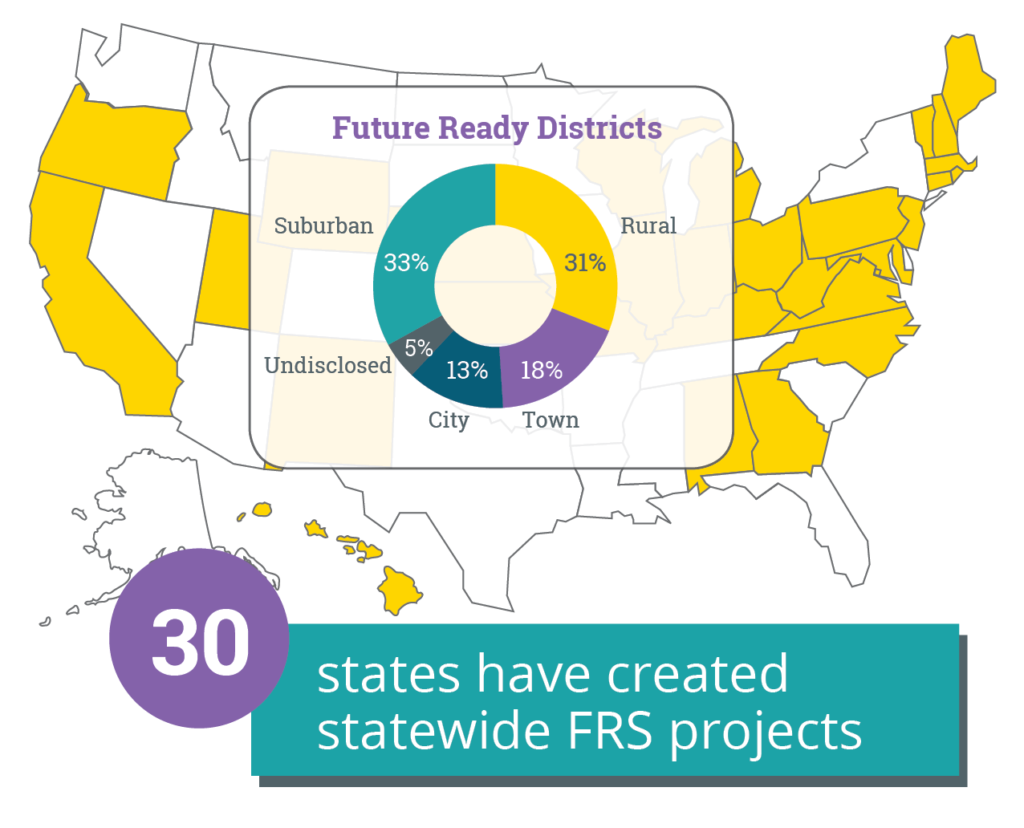 The Future Ready State Leadership Program currently includes thirty states plus the District of Columbia. This effort focuses on helping state leaders leverage Future Ready Schools®'s (FRS's) free resources to support district leadership teams in the effective planning for digital learning. States play a critical role in the educational system and offer unique opportunities to promote the importance of equity as schools and districts move to more personalized approaches to teaching and learning.
The state program offers state-level resources, communications strategies, and ongoing opportunities to network as state leaders create statewide FRS offerings for districts within the goals and context of each state.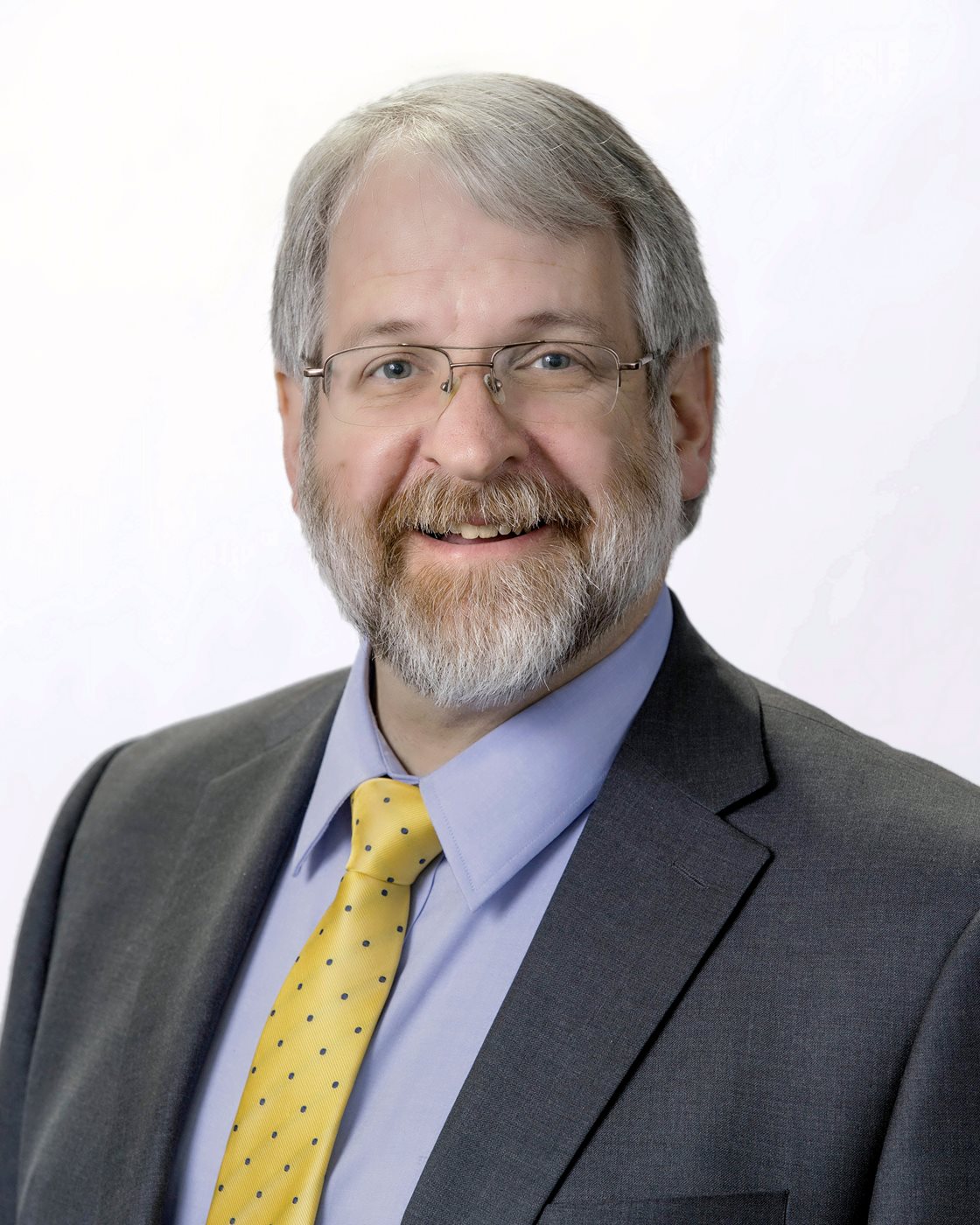 The Future Ready Framework, with its focus on Personalized Learning and technology as an accelerator for learning, aligns with the student-focused approach in Ohio. #FutureReadyOH assists districts in planning the transformation to environments that personalize learning and pathways for all students. As Ohio shifts to recognize there are multiple pathways to a successful future, being prepared for a technology-driven workforce is an essential key to any pathway.
Paolo DeMaria
Superintendent of Public Instruction, Ohio
Alabama Department of Education is one of the newest members of the Future Ready State Leadership program.
California supports teaching and learning by being a Future Ready state. The local control funding formula planning process is enhanced when aligned with the FRS Interactive Planning Dashboard, gap analysis, and action planning. As the convener of the California FRS leadership team, the California Department of Education works with educators throughout the state to meet the needs of California.
As a Future Ready state, Connecticut supports digital learning in schools, libraries, and institutions of higher education through the work of its Commission for Educational Technology, including the five-year Educational Technology Goals and Plan. The eight core initiatives in that Plan support all aspects of twenty-first–century, personalized learning, from infrastructure to pedagogy.
Washington, DC, is committed to helping students and teachers personalize learning.
The Georgia Department of Education is committed to supporting personalized student learning through the resources and services provided through Georgia's Path for Personalized Learning program.
Hawaii's Department of Education used the Future Ready Framework to develop a comprehensive statewide learning plan to ensure that all Hawaiian schools go beyond computer labs and traditional project-based learning to seamless integration of technology in a way that expands learning beyond the four walls of the classroom.
Illinois is committed to maximizing digital learning opportunities for all students. Future Ready Illinois supports educators learning about and implementing personalized learning strategies to achieve equity and excellence for each and every student in Illinois.
The Hoosier state is known for much more than race cars and corn fields. Indiana is now recognized as a leader in the transformation to teaching and learning in the digital age.
Kansas is committed to systemic planning and implementation of personalized learning for students and teachers.
The Kentucky Department of Education supports FRS by encouraging all districts to sign the Future Ready Pledge and to use the dashboard tool to enhance their digital learning planning and implementation.
The Maine Department of Education's long-term initiative, the Maine Learning Technology Initiative (MLTI), made Maine the first state to transform teaching and learning within the classroom by implementing the county's first (and largest) statewide 1:1 learning with technology initiative.
After hosting one of last year's summits in Baltimore, Maryland continues its leadership in the digital learning field.
The Massachusetts Department of Digital Learning supports the expansion of high-quality virtual, blended, and digital learning experiences to transform pedagogy and advance the education of every student in the Commonwealth.
Through leadership, policy implementation, and light-of-day reporting, the Michigan Department of Education increases full-time, full-access systems of education that support success for every student.
Missouri provides planning expertise and support to all interested districts and charter schools across the state in implementing digital learning to move quickly toward preparing students for success in college, careers, and citizenship.
Nebraska has adopted the Future Ready Framework as a structure of organizing and communicating the Future Ready Nebraska (FRN) plan.
The New Hampshire FRS program is a collaboration between the New Hampshire Department of Education and several professional education organizations in the state. Together, the FRS Steering Committee works to provide New Hampshire school districts and educators with the professional development and guidance they need to transform their schools into personalized, competency-based innovative learning centers.
FRS New Jersey is a certification program created to support the state's schools with the resources needed to implement digital learning and promote the skills, abilities, and capacities essential for student success in college and careers.
Future Ready New Mexico puts a strong emphasis on twenty-first–century skills and supporting teachers with free software and ongoing professional development opportunities.
The New York State Education Department supports efforts to provide technology-enhanced learning environments to improve teaching and learning.
The State Board of Education (SBE) and the North Carolina Department of Public Instruction (NCDPI) are committed to providing personalized digital-age education that K–12 students need to succeed in college, careers, and as globally engaged productive citizens
The Ohio Department of Education guides all Ohio districts on digital empowerment to increase student achievement and engagement. By utilizing the Future Ready Framework, educating Ohio students can move from a traditional style of learning to a more personalized approach.
Oregon is committed to bringing effective digital learning practices to schools throughout the state.
Pennsylvania Department of Education is a new FRS partner committed to supporting students and teachers through systemic digital learning planning.
Rhode Island was the proud host of the New England Future Ready Summit in April 2015 and continued to support the FRS Network in 2016.
Utah's State Board of Education is encouraging districts to use the FRS Interactive Planning Dashboard assessment to assist with their digital learning grant applications.
Vermont's Agency of Education is committed to helping bring effective digital learning practices to schools throughout the state.
The Virginia Department of Education is committed to bringing effective digital learning practices to schools throughout the state.
The West Virginia Office of Instructional Technology provides statewide integrated technology initiatives, programs, and projects for preK–12 public schools and career, technical, and adult education centers.
Wyoming has utilized the Future Ready Framework as the backbone of the state's digital learning plan, which outlines best practices in providing equal access to quality educational opportunities through technology. The Wyoming Department of Education currently is using the Future Ready Framework to guide the work of the department as a whole and assist state and school leaders in implementing personalized learning strategies to ensure all students are college, career, and military ready.