Match K12 Mentoring Program
Do you ever feel isolated in your work as a school or district leader?
Do you want to deploy more innovative student-centered instructional approaches, but are not quite sure where to begin?
Do you seek to learn from other educators who have similar students and school demographics?
Is there a specific school-improvement challenge or issue that you would like to overcome?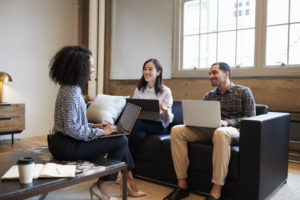 Then MatchK12™ is for you!
As the Future Ready Schools®(FRS) network matured, a thoughtful and innovative group of experienced school and district leaders emerged, poised to help their peers become future ready! FRS selected more than fifty of these exceptional leaders to mentor and support other districts as they move toward authentic student-centered learning, regardless of where the districts are in the implementation process. These experienced and knowledgeable leaders are the heart of the MatchK12 Mentoring Program.
Working with Columbia University's National Center for Restructuring Education, Schools & Teaching (NCREST), FRS identified seven key areas where districts often need additional support when implementing student-centered learning strategies. Through the MatchK12 website, district and school leaders quickly access information organized by topics related to their specific school-improvement needs. They also connect directly with MatchK12's mentors through "quick match," a feature that pairs districts with other education leaders willing to share their expertise, help their peers overcome challenges, and discuss the implementation steps that suit a specific school or district.
You can connect with a mentor in two ways:
Do you know what you are looking for?
If so, use our filtering system to find a mentor by name, expertise, student demographic, keyword, or region.
We have narrowed down complicated topics into key practices and strategies for you to consider and explore. As you read the guides full of ideas, tips and potential solutions, you will be offered opportunities to connect with a mentor that best fits your needs.