Date
Tuesday, February 14, 2017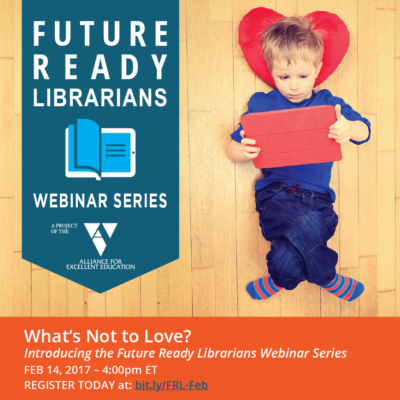 Please join Future Ready Schools® (FRS) for a webinar that introduces viewers to the Future Ready Librarians (FRL) program and how savvy information and technology professionals can support FRS.
The FRL program makes a difference within schools and education by supporting and leading FRS's goals through professional practice, programs, and spaces. In this webinar, panelists will
highlight the key role the FRL program has in FRS;
identify ten ways to be a Future Ready Librarian; and
share exciting 2017 webinar topics that will cover each gear in the FRS framework, and delve deeply into each from the lens of the librarian.
Please join this first FRL webinar to get involved and be part of this ongoing conversation. This webinar is brought to you by FRS and Project Connect; together they will make a difference. The FRL program can lead the transformation of learning within schools and communities.
Panelists
Kristen Mattson, Ed.D, Future Ready Librarian, Waubonsie Valley High School,  Indian Prairie School District 204, Aurora, Illinois
Shannon McClintock Miller, Future Ready Librarians and Project Connect Spokesperson, Colorado and Iowa
Mark Ray, Future Ready Librarians Lead, Vancouver Public Schools, Vancouver WA
Please direct questions concerning the webinar to [email protected] If you are unable to watch the webinar live, an archived version will be available here one to two business days after the event airs.
Support for the Future Ready Librarians program is generously provided by Follett.
 Future Ready Schools is a project of the Alliance for Excellent Education, a Washington, DC–based non-profit, bi-partisan national policy and advocacy organization dedicated to ensuring that all students, particularly those traditionally underserved, graduate from high school ready for success in college, work, and citizenship.
Social Sharing
Options: Facbeook, Twitter, Linkedin, Pinterest...
date, start time, and end time of the event.