Creating School-Based Change through Future Ready Schools
Learn, network, and collaborate with peers in your area.
This workshop is designed for school-based leaders (Principals, Librarians, and Instructional Coaches) explore effective school-based leadership strategies that assist with the transformation and modernization of student learning through the support from the FRS Framework. Grounded in leadership and school culture, participants will create a plan for building strong instructional partnerships, develop an understanding of change management, and explore effective strategies and tools that support the development of a Future Ready school, while building the capacity of like-minded educators in their region.
During the workshop, participants will:
Dive deep into the research-based Future Ready Framework and resources;
Understand the strands, network, and tools to support school-based change;
Explore the skills and strategies needed to lead a successful implement the FRS frameworks into the school;
Develop an understanding of change management and effective culture;
Understand how FRS can support your efforts throughout the planning process and beyond and;
Learn, network and share with like-minded peers in your area and from other FRS districts that are immersed in the work.
Lunch Provided
PARKING: The event will be held at the performance center, which is located at the end of the drive onto campus on the left.  Participants should park on the other side of this building in the parking lot with the flagpole and come in through the Performance Center entrance (labeled above the door) at the south end of that parking lot (has three sets of glass doors).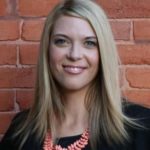 Brianna Hodges
Energetic and enthusiastic learner, teacher, coach and change agent, Brianna serves as the Coordinator for Innovative and Digital Learning at Eanes *Innovative* School District (Austin, Texas). Recognized as Education Dive's 2018 K12 Administrator to Watch and 2017 Texas EdTech of the Year, she serves as the National Advisor and Spokesperson for Future Ready Instructional Coaches (futureready.org). Brianna believes that every learning experience is amplified by innovation, connection and creativity. An experienced advocate, speaker and coach, Brianna seeks to leverage interests, connections and demonstrations as critical instructional design elements to achieve the highest levels of learning. Emphatically passionate that pedagogy is the true catalyst for empowered learning, Bri partners with school districts and leaders across the country to reimagine learning, coach for change, and fully embrace the opportunities for learning all around us.
Brianna holds a Master's in Curriculum and Instruction, with a specialization in Instructional Design and Technology. She believes that learning is and must be the single most important driver in the classroom. As such, she believes that learning is people-based and enhancement and demonstration is tool-based. Bri serves as the national lead for Competency-Based Professional Learning for Digital Promise's League of Innovative Schools.
Principals/Assistant Principals
Librarians
Instructional Coaches

This workshop is supported by:

Orchard Farm School District.