Leadership and school culture lay the foundation for systemic change, whether in the physical school building or during remote learning. Future ready school and district leaders utilize an equity-focused lens and have the courage to embrace curricular and instructional enhancements as learning needs evolve and as the culture demands. A forward-thinking, future ready vision is advanced through leaders' transformative thinking and collaborative endeavors, especially during times of continuous change.
During this team-based workshop, your district of three or more leaders will join teams from across the country to collaborate to build networks of like-minded colleagues, generate feedback on practices, share ideas and experiences around creating a culture of leadership.
We will
develop a plan that supports a sustained feedback loop to ensure best practices and methods to solve evolving challenges;
examine the "undercurrents" that often undermine the change process; and
build a network and solve relevant issues with other district leaders.
Join us to learn, network, and collaborate with like-minded districts from across the country!
Registration is closed. Please contact Lia Dossin at

[email protected]

if you are interested in attending.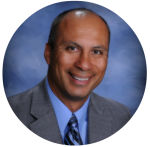 Jimmy Casas
Future Ready Principals™ advisor
@casas_jimmy
All district teams new and veteran to the FRS network are welcome to register for the workshop.



This workshop is supported by: