The Building Sustainable Anytime, Anywhere Learning Environments summit is a FREE, virtual, interactive, high-quality professional learning experience for technology leaders, including chief technology officers, chief information officers, and directors of technology. Technology leaders participating in this summit will learn, grow, and expand their professional practice through collaboration and networking with like-minded colleagues from across the country. The summit is designed to provide effective leadership strategies and evidence-based practices to support digital learning innovation to support digital learning anytime, anywhere for all students.
The summit will not be your typical virtual conference experience. We will kick off the event with a unique keynote called "Pardon the Disruption" from Dr. Adam Phyall and Carl Hooker (cohosts of the UnDisruptEd Podcast). During the summit, attendees will discuss strategies for making the most of their Elementary and Secondary School Emergency Relief (ESSER) funds and how to build a sustainable technology environment that meets the needs of all staff and students while working collaboratively with like-minded people from across the country. Summit topics will focus on the following:
Getting the most out of your ESSER dollars
Addressing the rapid change of technology and how it needs to support equity of opportunity
Developing budget strategies for long-term sustainability
Designing diverse instructional delivery models
Virtualizing of services to support staff and students 24/7
Summit attendees also will hear from other technology leaders who have rapidly redesigned the way they meet the needs of students in the areas listed above.
Register today – It's free!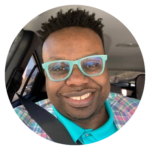 Adam A. Phyall, III Ed.D
Director of Technology & Media Services
Newton Public Schools (Georgia)
@AskAdam3
All Future Ready Technology Leaders™ including superintendents, assistant superintendents, chief information officers, chief technical officers, information technology directors, instructional technology directors, and directors of technology.