Leadership and school culture lay the foundation for systemic change, whether in the physical school building or during remote learning. Future ready school and district leaders utilize an equity-focused lens and have the courage to embrace curricular and instructional enhancements as learning needs evolve and as the culture demands. Through transformative thinking and collaborative endeavors, leaders advance a forward-thinking, future ready vision especially during times of continuous change.
During this workshop, you will join educator leaders from across the country to collaborate and build networks of like-minded colleagues, generate feedback on practices, and share ideas and experiences around creating a culture of leadership.
We will
reflect on our own leadership styles and identify ways to better support staff,
identify and discuss culture-building best practices,
examine the undercurrents that often undermine the change process,
build a network and problem solve relevant issues with other district leaders.
Join us to learn, network, and collaborate with like-minded districts from across the country!
Registration is closed. If you would like to attend the event, please contact Lia Dossin at [email protected].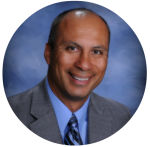 Jimmy Casas
Future Ready Principals™ advisor
@casas_jimmy
All FRS district and principal leaders including superintendents, assistant superintendents, executive cabinet members, principals, and assistant principals.