August 3-4 in Palm Springs, California
Happening across the country in 2017, Future Ready Schools® (FRS) Institutes are FREE, two-day convenings bringing together district leaders, principals, librarians, and teacher leaders to build a regional network and share peer support for each district's FRS journey. This includes single participants  – regardless of whether your district is coming.
The Palm Springs FRS Institute will be a great personalized learning experience with the chance to grow professionally, network with local and national experts, and collaborate with like-minded educators in your area. There are no prerequisites to register – simply attend and learn more about becoming Future Ready.
Participants will work on the next steps toward becoming future ready regardless of where you are in the process. You are no prerequisites or pledge requires – simply come and learn more about becoming future ready.
The goals for each regional institute are to meet educators where they are in their Future Ready Journey and provide opportunities to:
Leverage regional digital learning experience and resources to develop stronger local networks.
Learn and be inspired by national education technology leaders who have successes in district and school transformation
Create actionable next steps to reach Future Ready goals
Check out the action-packed FRS Institute Agenda
The FRS Institute Agenda leverages research-based professional learning best practices that have been designed by our Future Ready advisory team which is comprised of nationally recognized practitioners.
To make the most of your time at the Institute, please select the strand that is most appropriate to your position in your district.
Space is limited to one district leadership team (up to five people including the recommended superintendent and technology director) and up to two individual strand participants per district.
Again there are NO prerequisites to attend FRS Institutes and all innovative educators are welcome. This includes single participants  – regardless of whether your district is coming from pledge and non-pledge districts.
FRS is working with an advisory board of leading educational experts to create a research-based, two-day agenda that is action packed with personalized professional learning that models high-quality professional development practices lead by expert facilitators.
At the Institute, participants will:
Network and connect with innovative leaders throughout the region
Experience and learn to leverage high-quality digital learning instructional practices
Create actionable next steps to reach their district's FRS goals
Learn and be inspired by districts leaders who are involved in innovative digital transformations
The FRS Institute Leadership Team is comprised of educational thought leaders who have expertise implementing digital learning practice, along with extensive knowledge and enthusiasm for use of Future Ready Schools materials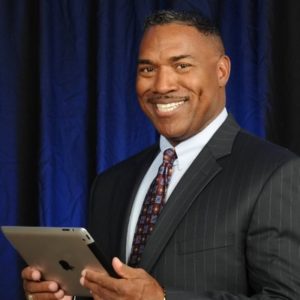 INSTITUTE KEYNOTE: DR. DARRYL ADAMS
As one of the nation's most renowned Keynote Speakers, Edutainers and Advocates for Innovation and Collaboration, Dr. Darryl Adams is the epitome of the Creative Servant Leader and Motivator! He spent 26 years as an educator with the goal of preparing students for College, Career and Citizenship! He has served as music teacher, band director, middle school assistant principal, high school assistant principal, high school principal, director of human resources, assistant superintendent of human resources and superintendent. Dr. Adams has recently been selected by the White House and the US Department of Education as one of the Top 100 Innovative Superintendents in America and was praised by President Obama for leading the way in ensuring students have equity and access to technology and the Internet.
CUE Membership
Thanks to our partnership with CUE, we are pleased to offer you one year free membership (a $40 value!) in the premier non-profit organization for educational innovators in the Western US. The promotion is being offered in celebration of the organization's 40th Anniversary and only allows for one year per account, so if you've already joined or renewed using this promotion. Be sure to redeem using the link below by March 16, 2018!
Cancellation Policy
Since space is limited and there is a waiting list, FRS kindly ask that you let us know if you registered but can no longer attend. Please email Lia Dossin, [email protected].