High-quality internet access is as essential to learning today as traditional text books were thirty years ago. Without high-speed broadband in school, students and teachers face challenges in completing assignments, conducting research, and utilizing modern technologies and resources.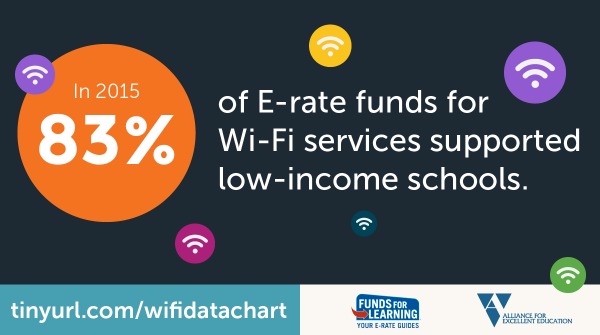 The Alliance for Excellent Education (the Alliance) invites school district superintendents to demonstrate support for funding to support Wi-Fi in schools by adding their name to the Re: WC Docket No. 13-184 Memorandum which will be submitted to Chairman Pai of the Federal Communications Commission.  The deadline for signatures is 5:00 p.m. (ET), Monday, November 6, 2017
Background
The Schools and Libraries program, also known as E-rate, provides funding to make internet connectivity and other telecommunications services more affordable for schools and libraries. Created as part of the Telecommunications Act of 1996, E-rate provides discounts on the cost of services, with high-poverty and rural schools and libraries receiving additional funding. In 2014, the Federal Communications Commission adopted the E-rate Modernization Orders (the Orders) as part of an effort to update the program and expand high-speed Wi-Fi access in schools and libraries. Implemented in 2015, the Orders set a target of providing $1 billion annually for five years to support Wi-Fi infrastructure and services (also known as category two services).
The Alliance and Funds for Learning® conducted a state-by-state analysis of E-rate funds disbursed for Wi-Fi in 2015 and found the FCC provided more than $1 billion to 42,705 schools nationwide to support Wi-Fi. This is important because in the two years prior to the adoption of the Orders, no E-rate funds were disbursed to support Wi-Fi. Moreover, of the E-rate funds disbursed for Wi-Fi in 2015, more than 80 percent supported low-income schools and one-third supported rural schools. This analysis shows that the FCC is not only meeting the Orders' target of providing $1 billion annually to support Wi-Fi infrastructure and services, but that these funds are supporting the highest-need schools. To learn more about this analysis and read about how these new funds have opened doors for students and teachers alike in a rural school district, click here.
Nonetheless, the FCC recently released a Public Notice requesting comments on "the sufficiency of budgets for category two services under the E-rate program." Many E-rate advocates fear that this is an attempt by new leadership at the FCC to roll back or redirect the new Wi-Fi funds adopted by the Orders before reaching the FCC's five-year commitment. The Alliance asks you to urge the FCC to deliver on its promise to provide $1 billion annually for five years to support Wi-Fi services and infrastructure in schools and classrooms.
By filling out the information below, you will be joining like-minded superintendents committed to supporting Wi-Fi in schools.
Superintendents: Sign on to support Wi-fi in schools by 5:00 p.m. (ET), Monday, November 6, 2017.