Future Ready Schools (FRS) is a bold effort to maximize digital learning opportunities and help school districts move quickly toward preparing students for success in college, a career, and citizenship. FRS provides districts with resources and support to ensure that local technology and digital learning plans align with instructional best practices, are implemented by highly trained teachers, and lead to personalized learning experiences for all students, particularly those from traditionally underserved communities. FRS is led by the Alliance for Excellent Education in collaboration with a vast coalition of organizations.
Through programs and partnerships and with Future Ready Schools® (FRS) support, thousands of district leaders have planned and implemented personalized, research-based digital learning strategies for millions of students to achieve their full potential. Here are a few of the milestones. FRS is celebrating!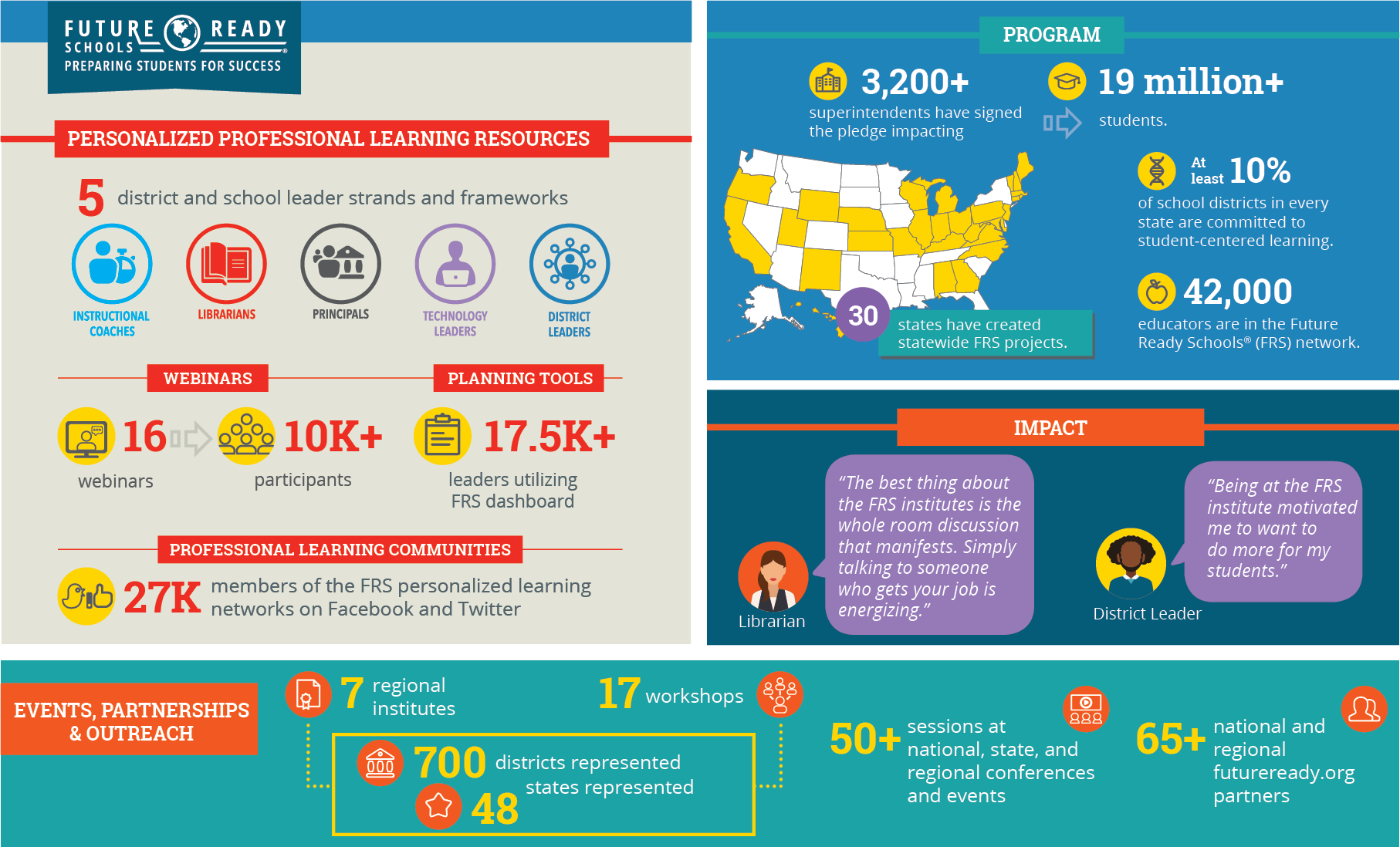 Although significant progress has been made in recent years, 21 million students still lack the needed broadband access for digital learning while at school.
This effort comes at a critical time as districts embrace college and career readiness. Federal and state efforts are expanding schools' capacity to ensure that at least 99 percent of the nation's students have access to high-speed internet. Such connectivity, along with strategic planning by districts to maximize its availability, has the potential to transform the educational experiences of all students, regardless of their zip code. District leaders must respond to these changes with thoughtful planning to align necessary technologies with instructional goals to support teaching and learning.
The Alliance for Excellent Education (the Alliance) is a Washington, DC-based national policy and advocacy organization dedicated to ensuring that all students, particularly those who are traditionally underserved, graduate from high school ready for success in college, work, and citizenship. During 2015, the Alliance created a separate project under its umbrella called Future Ready Schools (FRS) to help school districts develop comprehensive plans to achieve successful student learning outcomes by (1) transforming instructional pedagogy and practice while (2) simultaneously leveraging technology to personalize learning in the classroom.